Rotate Tires
Inspect/adjust all fluid levels
Inspect ball joints & dust covers
Inspect brake lines & hoses
Inspect brake lining/drums & brake pads/discs
Adjust brakes (as applicable)
Inspect drive shaft boots & steering gear box
Inspect engine air filter
Inspect cabin air filter
Inspect steering linkage & boots
Inspect nuts and bolts on chassis
Perform multi-point inspection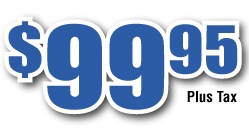 Please present coupon when order is written. Offer not valid on previous charges. Honda vehicles only. Not valid with any other offer or special.